Helping you find the right mortgage
In today's turbulent market it's hard to know which way to turn to find the right mortgage. That's why Shinerocks Estate Agents has joined forces with L&C, the UK's leading no fee mortgage broker to offer you free advice about the best mortgage to suit you. L&C's advisers have extensive mortgage expertise and can help first time buyers, home movers, buy-to-let purchasers and those looking to remortgage. You can speak to one of our advisers now on 0844 8588 006, or request a call back.
Benefits of our service
Fee-Free advice from the UK's leading Independent Fee-Free mortgage broker
Expert advice on mortgage and protection from across the market
Access to exclusive rates not available on the high street
Available 7 days a week by phone or email
Award winning service
Free Buyer's Protection policy (if your purchase falls through)*
On-line mortgage tracking facility
Free Guide to House Buying
*terms and conditions apply
Buying a home
Whether you are a first-time or next-time buyer, purchasing a new home can seem like a daunting and expensive process. The Guild of Professional Estate Agents' mortgage service, on the other hand, is designed to save you time and money. The service provides fee free, award-winning mortgage advice which means your costs are kept to a minimum. Also, as well as finding you the right mortgage, your advisor will ensure it completes on time, making the whole process a lot less stressful.
Finding the right mortgage is all important in the house-buying process so our website is packed with information to help you with your initial research, such as mortgage best buys, useful mortgage calculators and helpful mortgage videos and articles.
Once you've found a home to buy, L&C's fully-qualified mortgage advisors will be happy to help find the best mortgage for you, free of charge. Advisors are available seven days a week so you can sort out your mortgage at a time that suits you.
The Guild of Professional Estate Agents' mortgage service is provided by the UK's largest fee-free mortgage broker who can also help you find the best value life insurance for your mortgage. We can also get you competitive rates on the required legal work.
Types of mortgage
There are essentially two different types of mortgage:
Repayment
Every month the repayments you make with this type of mortgage will include part of the total amount of capital you have borrowed along with the accrued interest. In essence, with every payment you are paying off some of your total debt.
Advantages of a repayment mortgage:
Assuming you have stuck to your repayment plan, once the mortgage term comes to an end you will be clear of the debt
As you will be reducing your mortgage balance every month, and assuming your property does not fall in value, you should actually increase the equity in your house
Disadvantages of a repayment mortgage:
Very little of the capital borrowed is paid off in the early years of a repayment mortgage as you will be covering mostly the interest. Therefore, if you move in the mortgage's infancy you may need to take out a new mortgage at the original term once again
While you can make overpayments on top of your regular monthly requirement there may be financial penalties for doing so
Your monthly repayments will be higher than with an interest-only mortgage.
Interest only
As the name suggests, repayments on an interest-only mortgage only pay off the interest that accrues on the capital you have borrowed. Often, interest-only is taken as a short-term option to help support a homeowner's budget during financial difficulties. You must remember that at no point during an interest-only mortgage are you actually reducing the outstanding debt. To ensure you do pay off the mortgage at the end of its term, additional payments are often made into another repayment vehicle, such as an iSA or pension,that will eventually release a lump sum. Whether you choose a repayment or an interest-only mortgage, you will then need to select the type of mortgage rate that will affect your monthly repayments:
Fixed Rate Mortgage
If you choose a fixed rate mortgage you will repay the same amount back to the lender each month. This amount will not change for the agreed period, even if interest rates change. Fixed rate periods usually last between two and five years.
These are an excellent option if you want to budget and know exactly how much you will be paying for a certain amount of time. At the end of the fixed rate period it is likely the rate will become the lender's standard variable rate or a tracker rate which will be outlined at the outset when you take the mortgage. At this point you may opt to take a further fixed rate with your existing lender or switch to a new lender in which case you will incur fees. Booking and arrangement fees apply when you initially take out a fixed rate mortgage and an early repayment Charge (erC) will often be implemented if you choose to make one.
Capped Rate Mortgage
Similar to a fixed rate mortgage except that if the variable rate drops below the capped rate, the borrower's payments will be reduced as they will then be based on the lower variable rate. Conversely, if rates increase so will payments but not over the mortgage's stated capped rate. As with the fixed rate option, charges and fees apply.
Discounted Rate Mortgage
With this option a lender will offer a discount from their standard variable rate for a specified time. To illustrate, if the variable rate is four per cent and the discount one percent, the borrower will be paying back at three percent. This option may not appeal to those who wish to know exactly how much they will pay back a month as if the variable rate rises (say to five and a half per cent in this example), the borrower will now have to pay back at a rate of four and a half per cent.
Variable Rate Mortgage
A borrower's repayment will vary in accordance to the lender's standard variable rate.
Tracker Rate Mortgage
Like a variable rate mortgage, a tracker follows the movement of a market rate, such as The Bank of england Base rate. The tracker rate will be a specified percentage above this rate and that will determine what the borrower will pay back each month, eg. one per cent above The Bank of england Base rate of four and half per cent (therefore five per cent). As the tracker follows a stated rate, monthly payments can vary and go up and down as the rate changes.
Buy to Let
Whether you're buying a new property to let or need to switch to a new buy-to-let deal, GPEA Mortgage Services can help you find the right mortgage. The expert advice is free of charge which means your costs are kept to a minimum. As well as finding you the right mortgage deal, they will also make sure it completes on time, making the whole process a lot less stressful.
The buy-to let market can be very complicated which is why it is helpful to have an adviser that knows their stuff – our team has won more awards for its service than any other broker so you can be sure that you're in safe hands.
Our advisers are available 7 days a week so call us now on 0800 073 1945 or from mobiles call 0330 3031117.
The Guild of Professional Estate Agents Mortgage Services is provided by London and Country. Although L&C is authorised and regulated by the Financial Conduct Authority (FCA), the FCA does not regulate most Buy to Let mortgages.
What is Help To Buy?
Help to Buy is a government scheme which is aimed at helping people get onto, or move up the housing ladder. It will help existing home owners and first time buyers purchase a home with as little as 5% deposit.
There are two ways to purchase a property up to the value of £600,000 using Help to Buy:
Mortgage Guarantee - available on both pre-owned and new build properties with a standard mortgage of up to 95% of the purchase price.
Equity Loan - available on new build properties only using a government equity loan of up to 20% of the purchase price plus a traditional mortgage.
1. Help to Buy Mortgage Guarantee
How the scheme works
The scheme works by offering lenders the option to purchase a guarantee from the government on mortgages where a borrower has a deposit of between 5% and 20%.
The guarantee offers lenders an 'indemnity' or insurance cover, which will compensate them for most of any loss they may suffer if the borrower defaults, the property is repossessed and there is insufficient equity in the property to fully repay the lender.
This will encourage many lenders to increase the availability of high loan to value products, including '95%' mortgages which have been very scarce in recent years. An increase in the number of lenders offering 95% schemes should also lead to a reduction in their cost due to greater competition to attract this business. The mortgages advanced by lenders using the Help to Buy scheme will be subject to the lenders' usual underwriting criteria.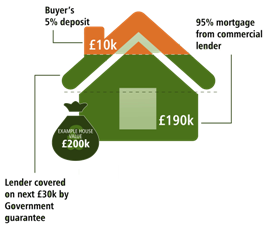 Example. If the home in the graphic above sold for £250,000, making a £50,000 'profit', you'd get the entire £250,000, without having to pay back any government loan or share any profit. As you own the property fully, you receive the full benefit of any property appreciation with just your mortgage to repay as with any normal mortgage.
Who is eligible for Help to Buy Mortgage Guarantee?
Eligibility criteria for the scheme are detailed below:
Available to both existing home owners and first-time buyers
Buyers need a minimum of 5% deposit
Available on all previously owned and new build properties up to the value of £600,000
Must be the only property owned by the borrower
Available for properties in the UK
Borrowing from a participating mortgage lender
How long will the scheme be available?
Launched in October 2013, ahead of the 1st January 2014 date originally planned, the scheme has attracted a lot of attention and a number of lenders have already launched mortgage deals with others expected to follow. The scheme is set to run until January 2017 although the Bank of England will monitor its impact and could either make changes to the qualifying criteria or how long it will be available if they think it is necessary to do so.
2. Help to Buy Equity Loan
How the scheme works
The scheme works by offering potential buyers a government backed equity loan up to the value of 20% of the purchase value of a new build property. The buyer must have at least 5% to put down as a deposit and meet the affordability criteria to receive the equity loan. A mortgage is required to cover the rest of the purchase – 75% of the value of the property if the full 20% equity loan is taken. A major benefit of this arrangement is that the rates of interest charged at 75% LTV are significantly better than those available at 95% so the monthly mortgage payment will be lower.
The equity loan is interest free for the first 5 years, but thereafter there will be a charge. In the 6th year, there will be a charge of 1.75% of the loan's value. After this, the fee will increase every year in line with inflation. The annual increase in the fees is worked out by using the Retail Prices Index (RPI) plus 1%. The Help to Buy agent will contact the borrower before these charges start to arrange for payments to be made from a suitable bank account. A statement showing what is owed will also be sent each year.Some or all of the equity loan can be paid prior to this. You will, however, be required to repay the equity loan in full on either the sale of your property or when the mortgage term ends, whichever is the sooner.
On the sale of the property, the government is entitled to its money back. This is the value of the original equity loan plus a share of the growth in the value of the property equal to the percentage contribution it made initially.
This type of mortgage is known as a 'shared equity' mortgage.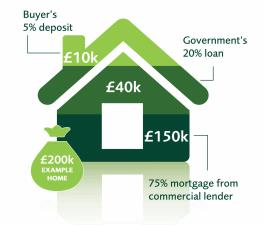 Who is eligible for Help to Buy Equity Loan?
Eligibility criteria for the scheme are detailed below:
Existing home owners and first time buyers
Buyers with a minimum deposit of 5% of the purchase price
Buyers who are borrowing from a participating lender
Available in England on New Build properties up to £600,000(alternative schemes are available in Wales and Scotland)
Buying a residential property that will be lived in and not rented out
The property being purchased is the only property owned by the buyer – there cannot be an interest in another property anywhere else in the world.
Can meet the affordability criteria for the mortgage and the equity loan
How long will the scheme be available?
The scheme is scheduled to run from 1 April 2013 until 31 March 2016, although will be terminated sooner if the available funding earmarked by the government is used up.
To find out if you qualify for a Help to Buy mortgage please call the Guild's mortgage service on 0800 073 1945 or from mobiles call 0330 3031117