Where is Carshalton Beeches?
Carshalton Beeches is a neighbourhood in Carshalton, which is located in the London Borough of Sutton. It is historically located in the county of Surrey and close to other towns and cities, including Croydon, Purley and Mitcham.
Carshalton Beeches is located west of Carshalton-on-the-Hill and centres around the railway station, also named Carshalton Beeches.
How to get to Carshalton Beeches?
As we mentioned, Carshalton Beeches grew around a railway station, meaning railway links to the area are some of the most effective ways to travel in and out. It can be reached either by National Rail lines, or a combination of London Overground and National Rail.
Catching a Southern train from London Bridge, or a London Overground train to West Croydon and changing onto a Southern train rail line, will take you all the way to Carshalton Beeches within half an hour.
Alternatively, Carshalton Beeches is located close to the A232 and is easy to access from the M25 via the A217. This allows for TFL and other buses to reach the area and provide transport both in and out of London, and to other areas.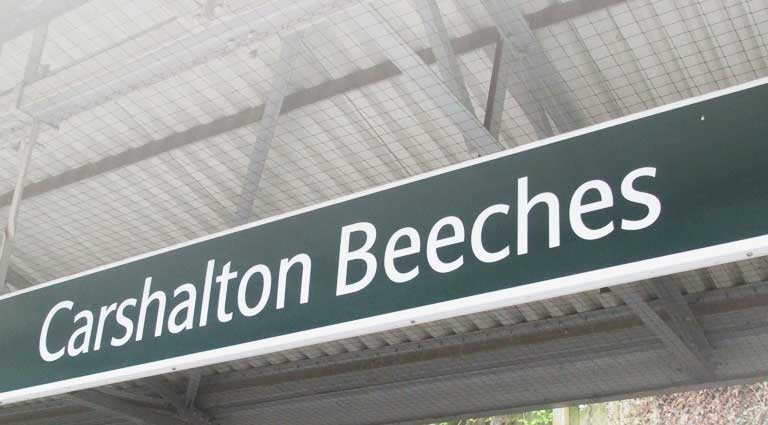 Carshalton Beeches station platform signage by Sunil060902 (CC BY-SA 3.0)
Pubs and restaurants
There's nothing better than meeting up with friends or family for a drink or some food; luckily there's a plethora of places to do that in Carshalton Beeches. From friendly family pubs with gorgeous outdoor areas for the summer months, such as The Greyhound and The Hope – which won the CAMRA Greater London Pub of the Year 2012 and 2013 – to cute little cafés and sumptuous restaurants with a variety of cuisines, you'll be spoilt for choice.
Don't forget drinks – the Vinoteca Italiana, close to Carshalton Beeches railway station, offers a delicious selection of wines to sip and gorgeous food to enjoy, inspired by Italian inns of the past.
Local events
Looking to explore your surroundings and enjoy some of the local produce on offer? Visit the Surrey Street Market, located a short distance away in Croydon, to pick up some fantastic fresh produce from all parts of the world. Alternatively, visit the Cheam Village Market if you're looking for crafted products and trinkets.
Carshalton Beeches is a lovely family location so keep your eye out for Fun Days in the summer – in the past, there has been one at Carshalton Beeches Baptist Church in July – and other family-oriented events, such as swimming sessions, park runs and much more.
Natural locations
Located just outside of London, Carshalton Beeches residents benefit from its rural location. There are plenty of green spaces available to visit within walking distance.
Just beyond the station is the lovely Carshalton Ponds, the perfect place to visit if you're looking to discover some history while outside – the springs and ponds you'll see have been in the centre of Old Carshalton for centuries.
Right in the heart of Carshalton Beeches is Carshalton Lavender, a not-for-profit community project that manages three acres of lavender, supporting the history of the location as "the lavender capital of the world". Visit the fields in July and attend the annual harvest weekend.
Want a green space where you can play games with the family? Head to The Wrythe Recreation Ground or Nonsuch Park for acres of open fields and walkways, perfect for games, exploration, wanders through the lush foliage, and a multitude of other activities.
Historic and cultural sites
If you want to add some more history or culture to your life, there's no need to go too far afield. Close to the station you'll find the Little Holland House, a wonderful home furnished with handmade furniture and accents created by the original builder and his wife. It's perfect for an afternoon's exploration but make sure to check when it's open, since it's not every day.
In terms of culture, look no further than the Charles Cryer Theatre. Located on Carshalton High Street, this theatre has operated as a community arts theatre since November 2018 to support the performing arts and will be showcasing performances when its back up and running.
Are you looking to move into this friendly and vibrant area of London? At Shinerocks, we want to help you find your perfect home in the perfect location – whether that's Carshalton Beeches or another area nearby. Simply take a look at our available properties or get in touch with us to find your dream home today.
---